Peter & Margot had lived in their fairly substantial home for many years, but quietly hankered after something warmer and easier to maintain as they got older. Conveniently, their detached home had a substantial garden and there was an inviting gap between their house and the neighbouring one – like a missing tooth in the streetscape. We started making plans for a new home to Passivhaus standard which would slot into this gap.
Peter and Margot visited various other sites to help them make a choice about building method and they settled on SIPS – Structural Insulated Panels from SIPS@Clays. These allowed for a cost saving on a full timber-frame kit to Passivhaus spec, but the downside was a slightly longer erection process on site (around two weeks) and the need to apply secondary internal insulation to bring the building envelope up to the required insulation level.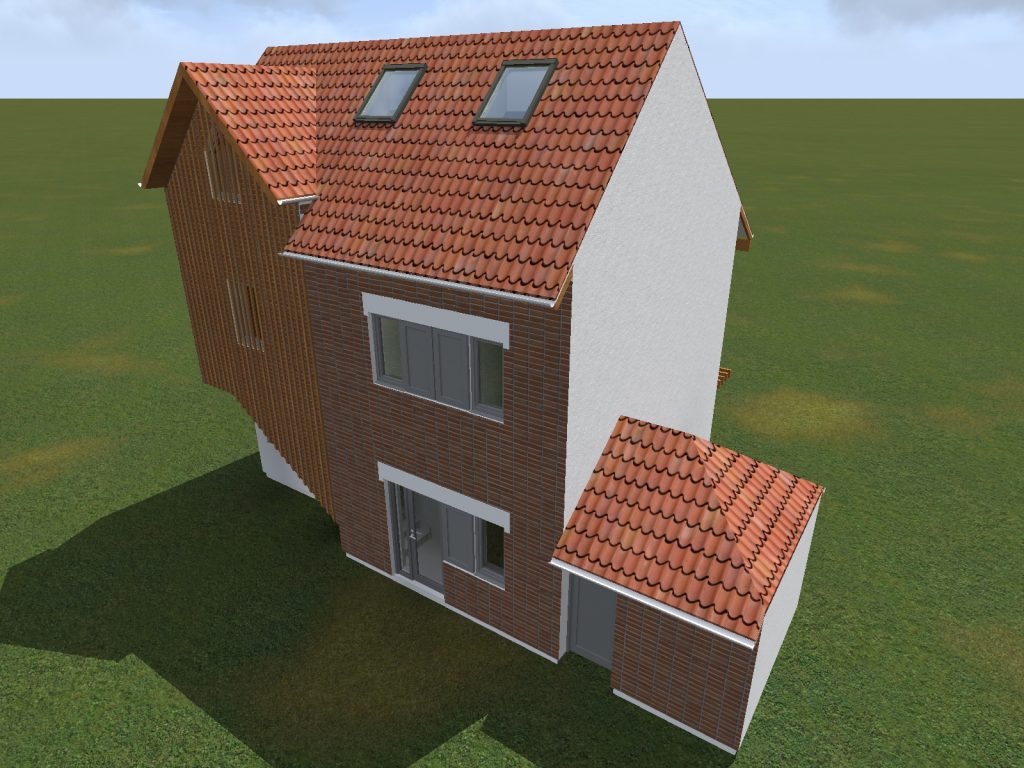 The rear of the house faced south across a lengthy garden, inviting lots of glazing with shading to prevent summer overheating. The north-facing street elevation was more of a challenge though – how to create something which paid respect to the public side despite small glazing areas. The solutions were:-
under-cutting and cladding with timber slatting the stairway, so it forms a distinctive sculptural element with a texture which changes as you approach the house along the street
fitting fake "shutters" alongside the windows to bathrooms/WC so as to double their impact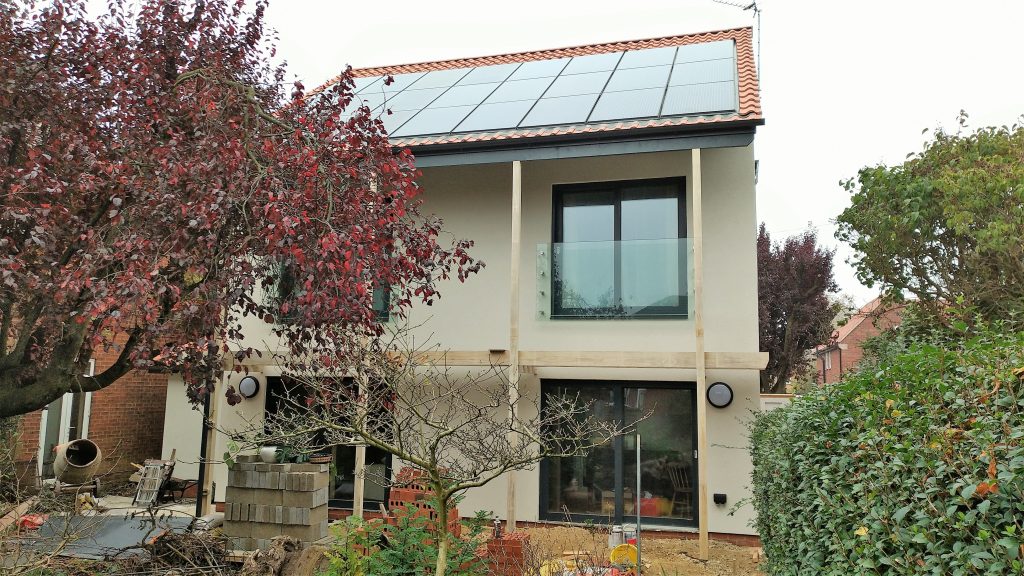 The rear face of the roof is entirely clad in PV's installed by The Phoenixworks giving an array of over 6kWp, and battery storage is being considered in order to make more use of the electricity produced by this – FITs payments aren't generous. Internally the house feels light and spacious, and consideration has been given to "Lifetime Homes" issues such as adaptation for mobility issues.
The one regret that they have is not downsizing their possessions before downsizing their home – the top floor room with its views of the sky is currently full of boxes. Two of the shower rooms remain only partially fitted out as they are not yet essential, so the house is still a work in progress.
Mid-Year International Passivhaus Open Days – online!
Due to the Coronavirus, the 2020 Mid-Year International Passivhaus Open Days were done as virtual walkabouts, with occupants encouraged to record videos and post them online. Here's a short video from Derwent Road filmed by Peter Huxford. Please take a five minute walk round.