Shortly after Tim and JJ's house was completed, the Victorian end-terrace house next door came up for sale. Fronting onto mature trees at the foot of Little Hob Moor across a short unadopted road, and with the rear of the site running onto a strip of Stray land and the wildlife reserve managed by the Mayfield Trust, it was a lovely setting. The house itself hadn't been seriously touched for years, so it very much invited some serious improvements. We bought it.
Our plans were twofold – to extend across from the back addition to create a new living/cooking space looking out onto the trees, together with an office for me to the front, separated by a small courtyard. Secondly, we planned a major energy retrofit on the existing structure, sufficient to remove the need for conventional central heating. We also planned to install renewables – a novel installation of PV's on the south-facing gable wall and back addition roof, and battery storage (all provided by The Phoenixworks).
Work started shortly before the end of 2017 with Kent Building Developments, and after finally selling our previous home we moved in during the summer of 2018.
The existing structure was improved by internal insulation to the front and rear, and external insulation to the gable wall. Triple-glazed sash-lookalike windows were installed from Eksalta. The roof insulation was improved, but the ground floor formed part of a previous underpinning scheme and was left unchanged.
The extensions were built on highly-insulated raft foundations using the same Buildakit timber frame system employed on the Passivhaus next door, together with Gaulhofer triple-glazed windows and doors, and a sedum roof system. Airtightness of around 3/hr was achieved, and a whole-house MVHR system installed.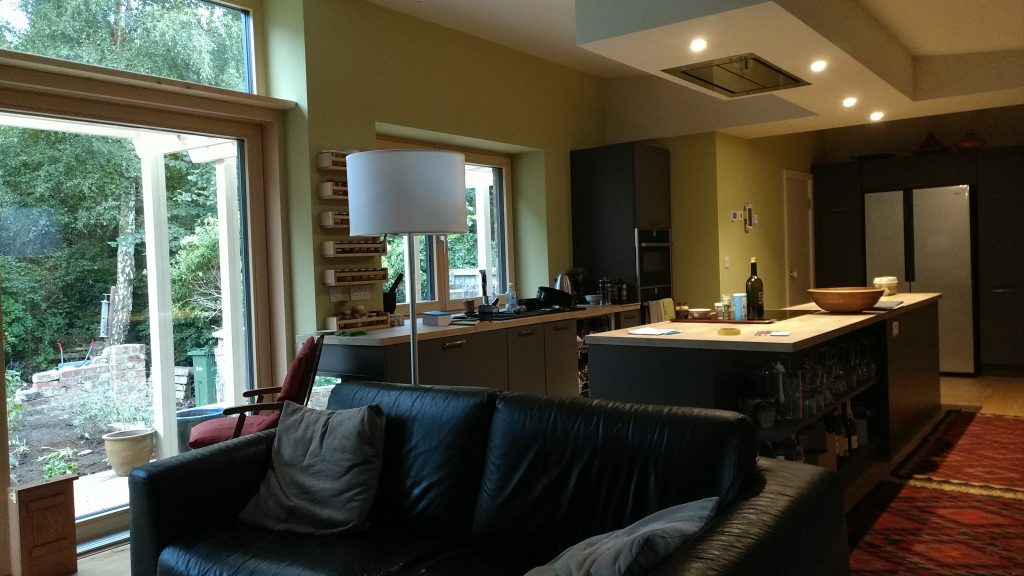 The 5.7kW PV system feeds into a Tesla Powerwall battery mounted in the dining room. Space heating is provided by a 1kW electric heater in the supply air system, electric towel rails in the bathrooms/WC's, and a small area of electric underfloor matting in the kitchen and living room.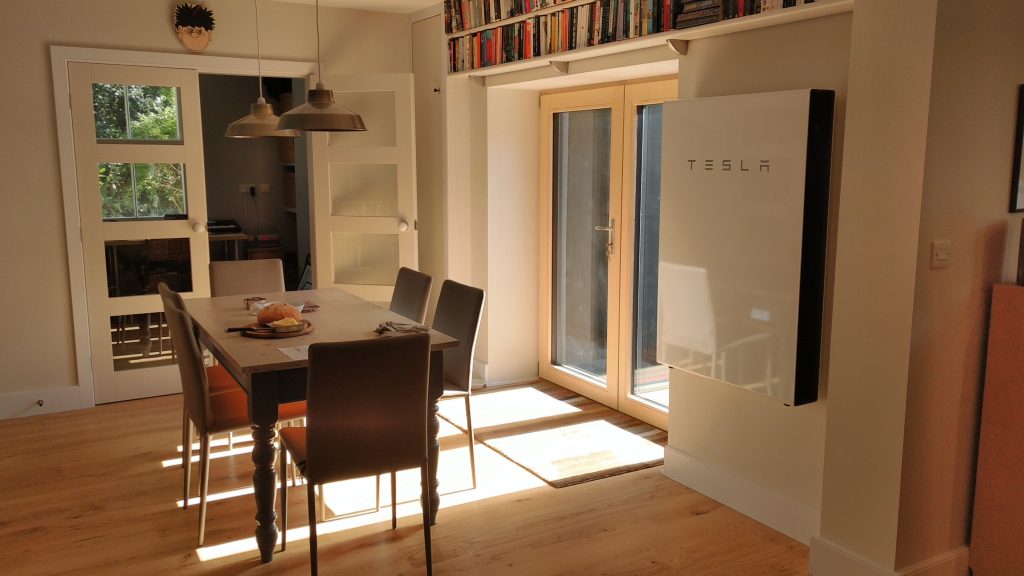 It's a comfortable home and a lovely place to work. Annual energy costs – after FITs repayments – are around £700. This is with comfortable temperatures all year (around 21-22c) and pretty much 24/7 occupancy. There's a nice blog about living there on the Tonik Energy (our energy provider) website.
Mid-Year International Passivhaus Open Days - online and on the fringe!
Each year so far we've opened our doors on the same weekend as the International Passivhaus Open Days – ours *isn't* a Passivhaus (or EnerPHIT) but a lot of the technology and techniques are relevant and as a Passivhaus Designer I'm always all too ready to talk Passivhaus. Due to the Coronavirus, the 2020 Open Days are being done as virtual walkabouts, with occupants encouraged to record videos and post them online. In addition to helping my Passivhaus clients put videos together (many thanks, Adobe Premiere Pro) I did a short one on our own place too. Please take a five minute walk round.