Over the years I have done a bit of work with local schools – from working with schoolkids on participatory projects through to simple extensions. Some of these have been fairly substantial, including one for Robert Wilkinson Primary in Strensall – now part of the Ebor Academy Group. The school wanted three new classrooms, new music facilities and a new staffroom, but had limited space available on site. However, they also had some rather dodgy flat roofs which were starting to leak on a regular basis, so from this combination an idea was born.
A first floor extension was designed, set around a double-height atrium which formed a new focus for this part of the school. By using timber frame construction, the additional load on the original structure could be minimised. It would also be possible for the work to be carried out in classroom-sized modules; the timber frames could be prepared, one existing classroom roof removed when the weather forecast indicated it was safe to do so, and the new floor quickly placed, with the walls and roof following on. In the event, only one of the tendering contractors followed this approach in their bid. Thankfully it proved one of the cheapest proposals, and so Vine House Construction got the contract.
It wasn't all entirely plain sailing – there were dimensional inaccuracies in the existing structure but the approach – especially fabricating the timber frames on site to suit dimensions – avoided this becoming a major problem.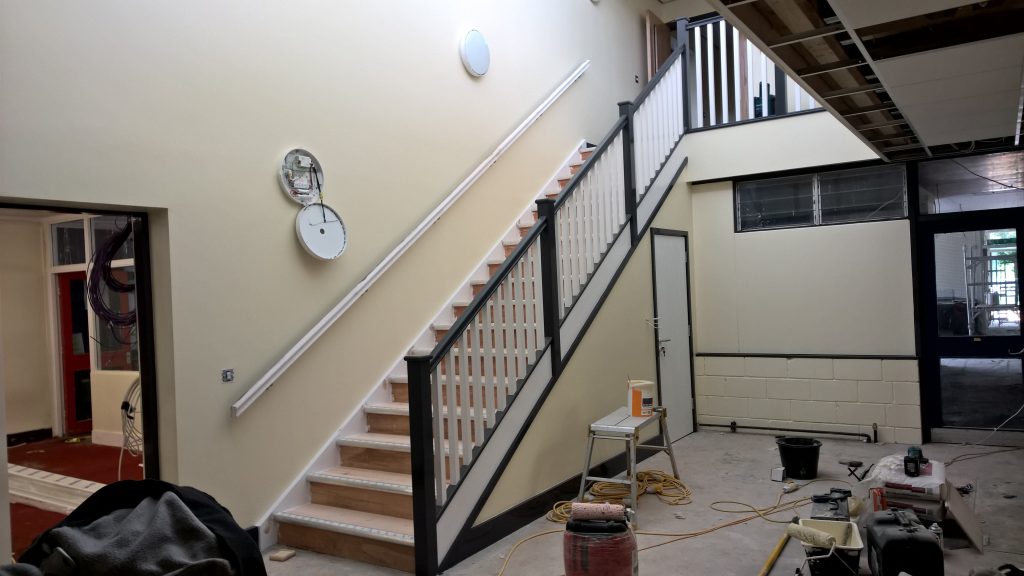 The project was finished with minor over-runs (mainly caused by unhelpful discovery of asbestos in the existing structure). There were some issues as a result of cost savings – the south-facing glazing had been designed to have sunshading fitted and this was omitted – but in general the new spaces work well.